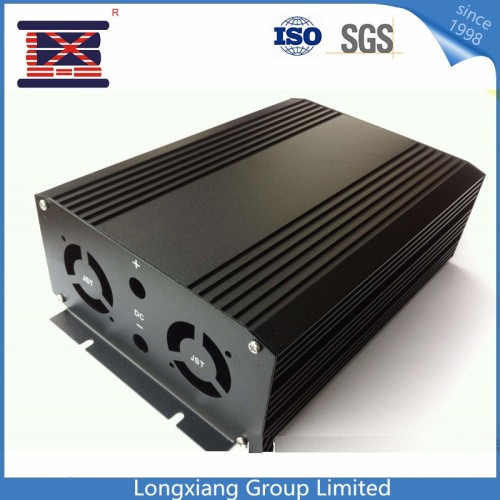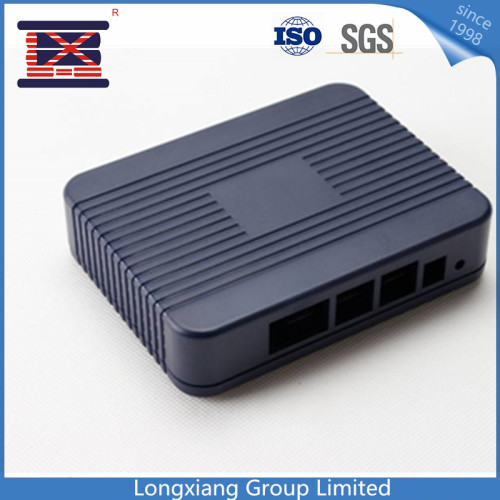 High Quality Plastic Electronic Enclose Part Mold/Mouse Cover/Camera Shell
Item specifics
Material

ABS.PP.PC.PA66 and other plastic
Size

CUSTOMIZED accepted
Injection Machine

80-2800Ton
Lead time

10-20days
Service

ODM/OEM
Usage

Injection plastic mold parts
Description
High Quality Plastic Electronic Enclose Part Mold/Mouse Cover/Camera Shell
Longxiang have rich experiences on big scale injection mold and injecting service
Plastic Material

Features

Applicable products

POM

Low friction coefficient,

Good geometric stability

Especially suitable for the production of gear and bearing

PA

PA6

Good elasticity,

High impact strength,

Water absorption is bigger

Suitable for making general machinery parts, reduce friction wear parts, transmission parts, as well as chemical, instrumentation and so on.

PA66

Better than PA6,

High strength,

Good abrasion resistance

PA610

Similar to PA66,

but small water absorption,

Low stiffness

PA1010

Translucent,

Small water absorption,

Good cold resistance

PC

Very good impact strengthm,

Thermal stability, Glossiness,

Inhibit bacteria,

Flame retardant properties and stain resistance

Electrical and business equipment(computer components, connectors, ect.), Appliances(food processor, a refrigerator drawer, ect.), The transportation industry(the vehicle's front and rear lights, dashboard, ect.)

PETG

Transparent,

high strength,

high wayward integrated features

Plate, sheet, special-shaped material (film, bottles), cosmetics packaging

PPO

Non-crystalline material,

Moisture absorption of small,

Poor liquidity,

Low bibulous rate is about 0.06%

Suitable for production of heat resistance, insulation parts, antifriction, wear parts, transmission parts, medical and eletronic parts(screws, fasteners and fittings )

PBT

One of the most tenacious engineering thermoplastic materials

Have a very good chemical stability, mechanical strength, electrical insulation properties and thermal stability

Home appliances (food processing blade, vacuum components, electric fans, hair dryer, coffee ware, etc.), electrical components (switch, electrical cabinet, fuse box, computer keyboard key, etc.), automotive industry (radiator shutters, panels, wheel cover, car body, door and window components, etc.)

PMMA

Excellent optical properties and resistance to climate change.

The white light penetrability is as high as 92%

Have very low birefringence

Have room temperature creep property

Have good impact resistance properties

automobile industry(signal equipment, instrument panel, etc.), pharmaceutical industry (ChuXie container, etc.), industrial applications (video, light scattering), consumer goods (drink cup, stationery, etc.)
Following is also the essential informations, for customer reference
1.Ready step

customer suppy us 3d drawing or sample .we make the injection mould drawing

2.Negotiation

the quality, price, material, delivery time, payment item,

3.Place an order

according to the confirmed plastc injetion mould drawing

4. Mould

According to customers request to build the injection mould. Before make the mould, we send mould design to customer approval first, and cusotmer pay the deposit...

before move forward to production; we will send samples to customer to confirm first.

5. Sample shoot

If the first sample come out is not satisfied customer, we will modify the mould till meet customers satisfactory.

6.Products in store

If your quantity is beyond our storage, we will provide lead time to you.

7. Delivery time

Delivery goods by sea or by air, according to customers requirement.
Why Choose Longxiang?
1. Manufacturing and exporting experience for over 20 years. ISO 9001 approved
2. Products are supplied to over 50 countries.
3. One-stop service for aluminum profiles, plastic parts, rubber parts, and moulds. Save time and save money for you.
4. In-house mold design and building capabilities.
5. No reclaimed material used to ensure high quality.
6. Keep secret to your idea and your design.
7. 24 hours (two shifts) / 6 days for production.
8. Professional design team, mold maker engineer. OEM/ODM service.
9. Professional QC and R&D teams to assure high quality.
10. Professional sales team. Good English capabilities and communication skills.
11. No MOQ.
12. Prompt delivery. For prototype: 3-7 days. Production orders can be arranged specially to meet customer's urgent demands.
13. Geographical advantages: within 30 minutes to airport or sea port, near to Hongkong.